The Porsche Parade has been cancelled this year but there's no reason the Arizona Mountain Region can't have a Parade on some of our favorite roads!
Join the club on Sunday, June 21st for a drive to Flagstaff for a picnic at Ft. Tuthill County Park.
We will depart the Maverick gas station in Dewey at 9 am (please arrive at 8:30 am for drivers meeting and waivers). The route will take us over Mingus Mountain, Page Springs Road, Cornville Road, Beaverhead Flats Road, Highway 179, and I-17, arriving in Flagstaff around 11:30 am.
Verde Valley and Flagstaff members can meet at various places along the route up or at the park. This is a "bring your own" picnic lunch. We will be picnicking at Ft Tuthill at the Maricopa Ramada. Plenty of parking and enough space to "physically distance" during lunch. Please bring a chair to insure everyone can keep the appropriate physical distance while visiting and enjoying the cool Flagstaff pines. We will be eating outdoors so bring appropriate sun protection, although pine trees will also work .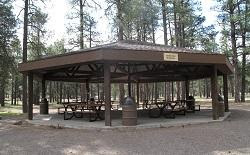 We will depart for home at 1:30 pm, heading over Lake Mary Road to Clint's Wells, down to Camp Verde and arriving back at the Maverick Station around 4 pm.
Please plan on "physically distancing" at all stops. Face coverings or masks are encouraged for the health of all participants. All participants are encouraged to stay at home if you are at higher risk for severe illness, or if you are sick or experiencing COVID-19 symptoms such as fever, cough or shortness of breath
PCA now requires a "Communicable Disease Waiver" in addition to the usual driving event waiver. This waiver must be signed by all participants at the start of the drive. You have the option to print out and sign this waiver at Motorsport Registration (see link below). Please bring and turn in your signed waiver at the start of the Tour.
We will also have waivers that you can sign at the tour.
Please register on MSR at www.motorsportreg.com/events/parade-to-flagstaff-2020-northern-arizona-pca-mountain-853668 by Friday, June 19th.
Any questions please call Bob Frith at 928-830-3393.